Risks & Opportunities
Mistakes to avoid and opportunities to recognize for businesses that rely on coating and chemical products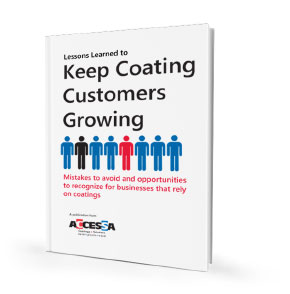 Is This Guide For Me?
Through Accessa's more than three decades of experience in the coatings and chemical industries, we have helped hundreds of businesses make smart choices to keep their businesses growing. We've also learned a lot. Working with customers and manufacturers affords us the opportunity to learn business and technical lessons from a variety of perspectives.
At Accessa, we work to make sure our clients never learn the hard way when it comes to their coatings and chemicals. In this guide, we share some of the common mistakes and opportunities we have observed so you can have rewarding experiences with your future projects.
What's Inside:
6 common mistakes customers make
Potential risks if you make these mistakes
How to prevent the 6 mistakes
5 opportunities our clients are taking advantage of
Potential benefits of the 5 opportunities
How customers can gain from these opportunities
How Accessa can help you prevent mistakes and take advantage of opportunities